Jul 15, 2017

14-16 July, 2017
This year's national championships attracted a huge entry ranging from the elite Olymian rowers down to under 14 rowers who were taking part in their first champs. The large crowds were treated to three exciting days of racing with the highlight being the mens senior eight which saw Commercial just edge out Skibbereen and NUI Galway in a really thrilling race.
The Jes brought a large squad of over 60 rowers who competed in 25 different events. Our highlights included wins for two of our scullers - Tom Maye in the boys J14 and Ellen Forde in the girls J15 event. Another big highlight for the Jes over the weekend was the bronze medal performance of the girls junior coxless four crew. The successful crew was Caoileann NicDhonncha, Laoise NiGhriofa, Roisin Gavin and Ciara Walsh - a great performance from a young group of girls and most of them will be back next year and hopefully can go even better.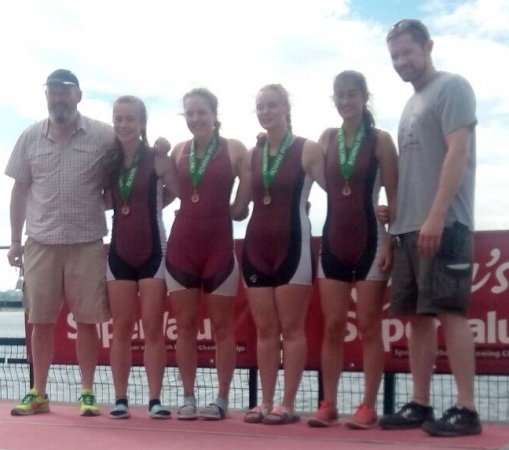 The bronze medalist J18 4- crew (l to r): Noel Hume (coach), Caoileann NicDhonncha, Laoise NiGhriofa, Roisin Gavin, Ciara Walsh, Luke Smyth (coach)

Ellen Forde took the honours in the girls J15 scull (above) and Tom Maye had a win in the boys J14 scull (below)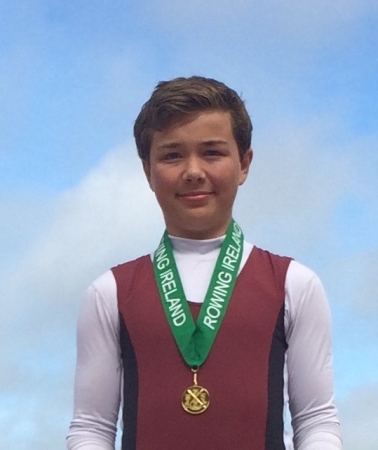 Despite some other strong performances, including several second place finishes, our rowers did not manage to pick up and further medals. A notable feature of the Jes entry this year was the fact that we had eights taking part in six different races - J18, J16 and J15 in both girls and boys. This is indicative of the strength in depth of both the boys and girls squads in the club.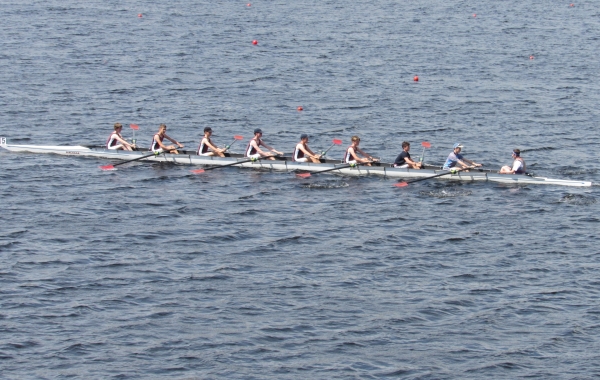 The J15 boys eight who narrowly edged out into 2nd place (l to r): Dylan Finan, Alex Morales-Glynn, Mark Ward, Oliver Kelly, Aaron de Burca, Eamonn O Tuathail, Niall Cahalan, Gavin Dempsey, Paul Tannian (cox)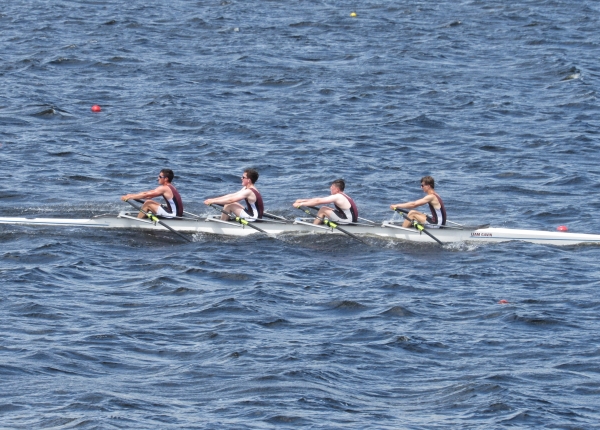 The Jes boys J18 coxless quad in action (l to r): Mark Ryder, Cian McHale, Caoimhin Conway, Brian Maye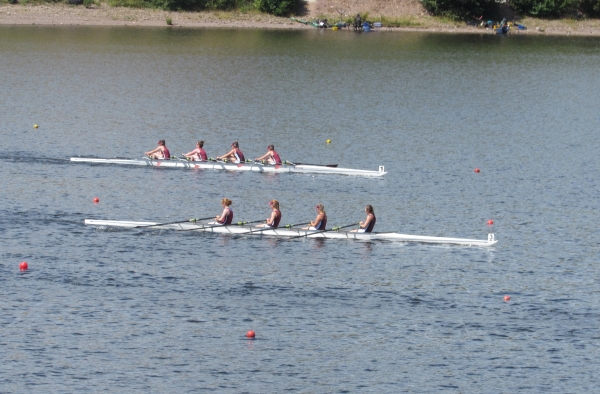 There were two Jes crews in the girls J18 coxless quad. Top (l to r): Rachel Trench, Sarah Curtis, Carley Mannion, Molly Curtis. Bottom ( l to r): Katie Ryan, Roisin McGrath, Hazel McNamara, Caoileann NicDhonncha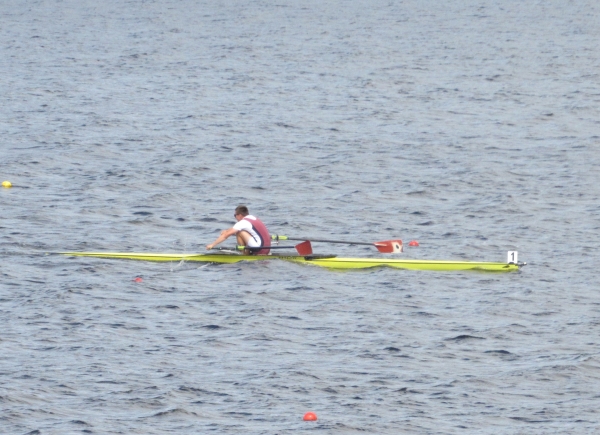 Seamus O'Donoghue took part in the Intermediate sculls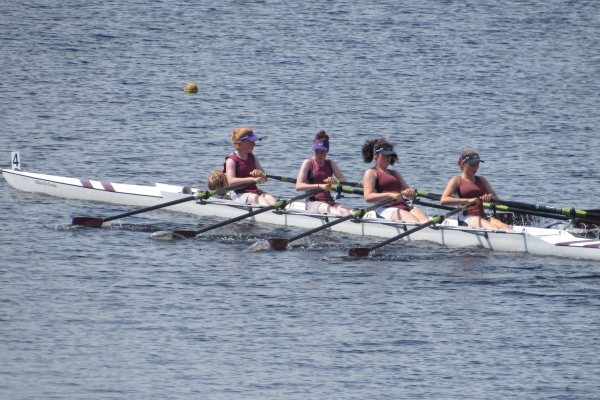 The two Jes girls J14 crews. Above (l to r): Rachel Dempsey, Sarah Trench, Emma Ryder, Katie Ryan (stk) and below (l to r): Sadbh Mannion, Laura Mcinerney, Clara O'Gorman, Tara O'Neill (stk) and Luke Flynn (cox)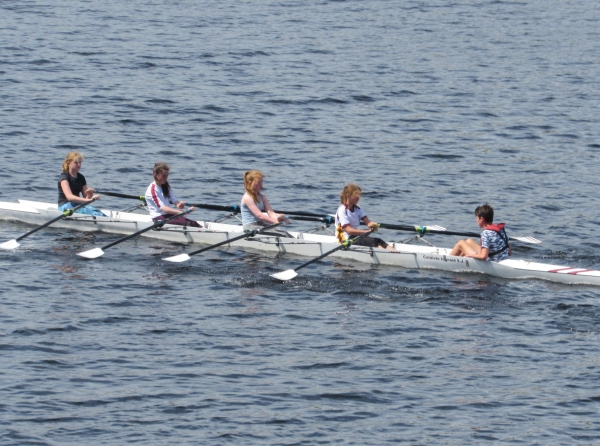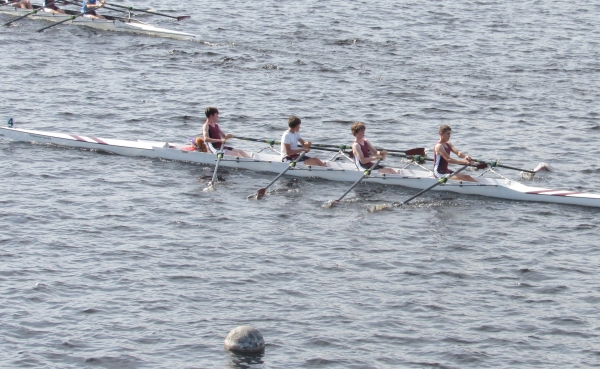 The boys J15 quad (l to r): Paul Tannian, Kirill O'Flanagan, Dylan Finan, Alex Morales-Glynn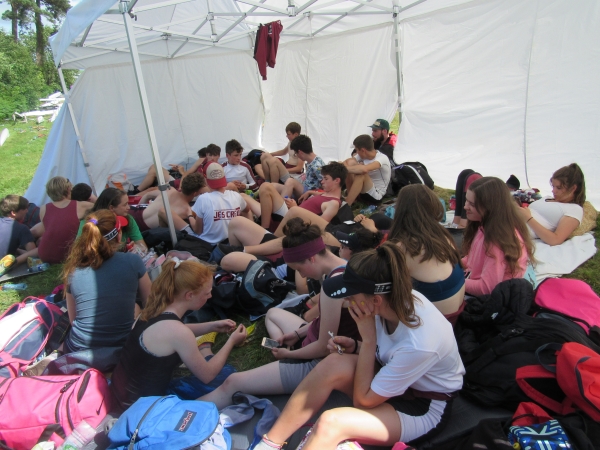 The very crowded Jes tent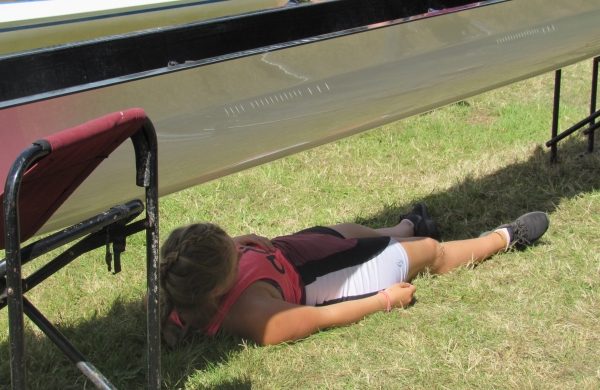 A rowing boat has many uses as this Jes rower takes a break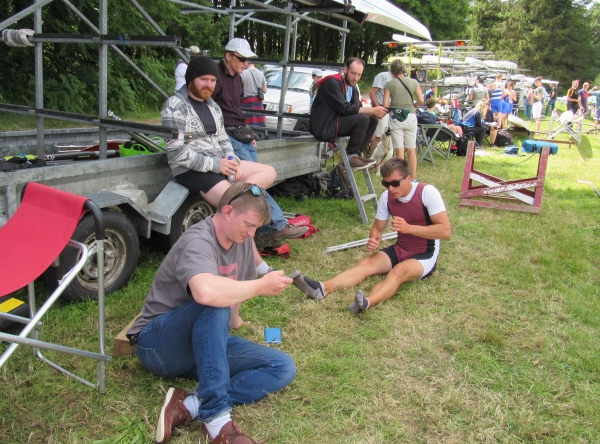 Some of the coaches (l to r) Liam Molloy, Mattie Kelly, John Lawless and Conor Coughlan seem to be givin advice to Seamus O'Donoghue (seated)

The Jes flag flying high at the National Rowing Centre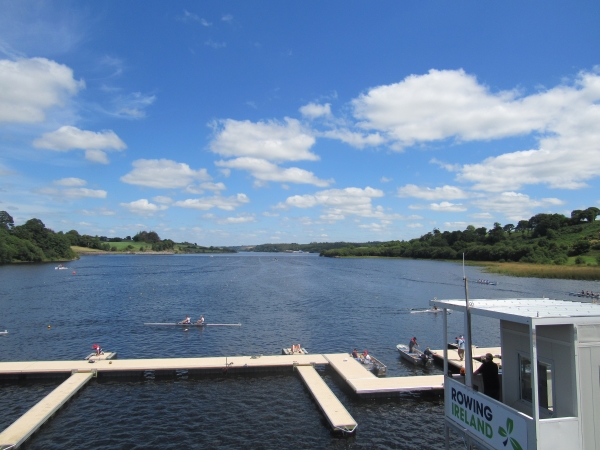 A view from the start looking down the regatta course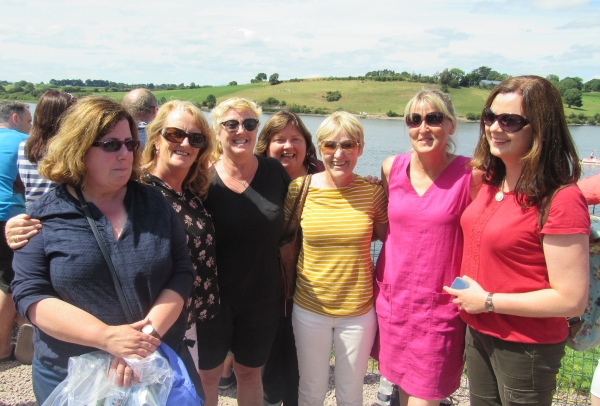 Some of the Jes mothers enjoying the Cork sunshine (l to r): Marian Connolly, Ann O'Donoghue, Susan Burke, Colette Lydon, Jackie Prendergast, Jacinta O'Gorman, Deirdre Lydon
So the curtain comes down on another great season of rowing from the Jes that saw some lows and many highs for the club. Our rowers can look back with pride in the way that they conducted themselves both on and off the water. As always, a big word of thanks goes to our volunteer coaches who put so much time and effort into the training of our rowers and also to the parents and other supporters of the club who assisted in so many ways.