Apr 16, 2019

Evan Molloy nominated for Mayor's Award for Sports Volunteer of the Year
Congratulations to Club Chairman Evan Molloy
Being nominated for the Mayors Award is a great acknowledgement of the incredible voluntary work of Evan Molloy to the Jes Rowing Club over so many years. The club would not be the force it is without his continuous effort.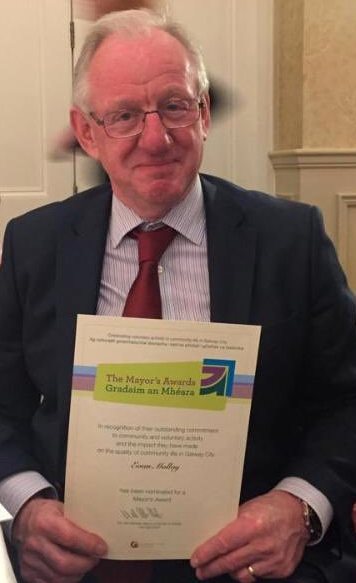 Evan is pictured holding his nomination certificate, which reads:
In recognition of their outstanding commitment
to community and voluntary activity
and the impact they have made
on the quality of community life in Galway City

Evan Molloy

has been nominated for a Mayor's Award.
The Mayor's awards is an annual initiative by Galway City Council to "acknowledge outstanding people and organisations that, through their commitment to participating in unpaid community and voluntary activities, have made a significant impact on the quality of their communities in Galway City". It takes place in April each year.
Evan first entered the Jes Rowing Club in 1967 and we are delighted he is still here almost 50 years later! Evan's role in the club can best be described as Chairman / Coach / Logistics manager / Engineer / Mechanic / Driver / Committee member / Builder... the list goes on. Evan has been coaching the beginners for the past number of years and all the successful CIRC oarsmen and women in the past ten years have been coached by him during their years in Coláiste Iognáid. Evan also played a key role in building the second storey in the club. It is because of this dedication that it is joked that Evan spends more time in the club than any of the rowers who train there every day!