May 04, 2019

5 Gold, and 5 silver Medals - CIRC 3rd overall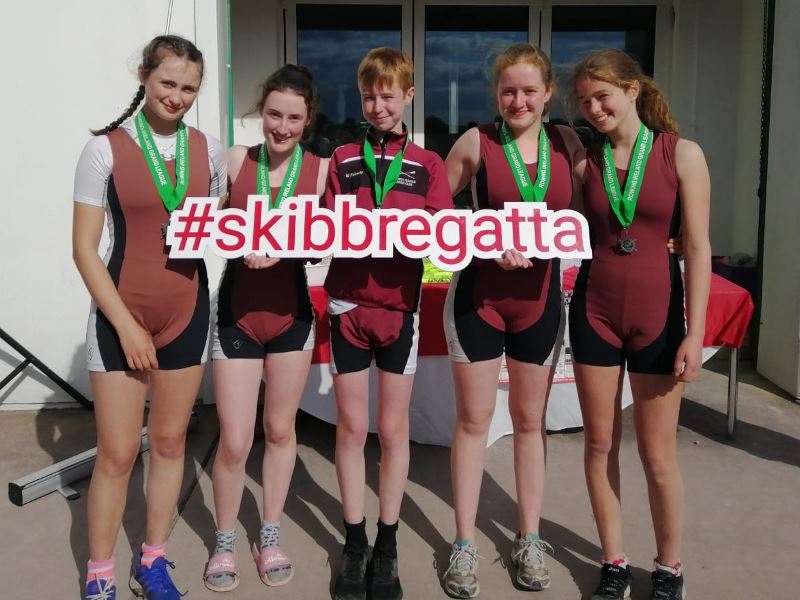 The 2-day Skibereen regatta began with competitors rowing into a very stiff headwind - enough to bring the boats to a complete stop within seconds of their crossing the finish line, and for crews to zoom past spectators at almost race-speed while paddling up to the stake boats. Junior 14 events, that were originally scheduled for the morning, were very sensibly postponed until the late afternoon by the regatta organisers, who were keeping a close eye on the weather forecasts. As predicted, the wind died down to a gentle breeze by 2pm, making for blisteringly fast races and exciting finishes for the remainder of the day. The clear, bright days were ideal for rowing and spectating alike. Although not warm, there was some heat in the sun so only those unwise enough to spectate in the shade felt the cold.
Grand League
The Skibereen Regatta is a Grand League event. There are a small number of grand league events each year. In 2018, these were the Dublin Metropolitan Regatta and Cork Regatta - the Skibereen Regatta, normally the first Grand League Event of the year, had been cancelled due to high winds.
There are 2 main Divisions in the Grand League, split into Men's and Women's categories, and 2 junior categories:
Division 1 Men / Division 1 Women: J18A, Club 1, Intermediate, Lightweight, and Senior Crews.
Division 2 Men / Division 2 Women: J16, J18B, Novice, and Club 2 Crews.
Junior 15
Junior 14
Racing consists of heats (typically only 1 heat for each crew), in order to whittle the competing crews down to the fastest 18: The fastest 6 crews are in Final A, the next fastest 6 are in Final B, and the third fastest 6 are grouped into Final C. These finals are then raced in reverse order (i.e. Final A happens last), presumably to give the fastest crews a little bit more recovery time after their heats.
Once the finals have been raced, the times posted by each crew are examined to determine the winners for each category (e.g. J18A, J18B, J16). It is often impossible to tell who won in a particular category until the times are published. For example, a CIRC J18A crew could race a really fast heat and make it to the A final, where they race against Senior, Inter, and Club 1 crews. All their J18A competition could have already raced in the previous race (the B final). This crew could come home last in their A final but, because the pace was so fast, they may still have raced the 2k faster than any other J18 crew, making them the J18A winners. Equally possible is the scenario where, due to their fatigue from racing the fastest J18 heat, this crew could complete their final in a slower time than one or two of the J18A crews in Final B, which would earn them a silver or bronze medal in the J18A category.
In Grand League events, pennants are also awarded to the fastest boats in Division 1 and 2 (men and women) based on their percentages of the gold medal standard times (calculated from current and recent World Gold Medal standards). This means that the 8+ will not necessarily be the fastest boat in each division.
Clubs accumulate points, depending on their successes at each Grand League event:

Grand League Points Awarded by Position and Boat Type
Position
1X
2x/2-
4x/4
8
1st
18
30
42
54
2nd
17
29
41
53
3rd
16
28
40
52
4th
15
27
39
51
5th
14
26
38
50
6th
13
25
37
49
7th
12
24
36
48
8th
11
23
35
47
9th
10
22
34
46
10th
9
21
33
45
11th
8
20
32
44
12th
7
19
31
43
13th
6
18
30
42
14th
5
17
29
41
15th
4
16
28
40
16th
3
15
27
39
17th
2
14
26
38
18th
1
13
25
37
In 2018, the winners of Division 1 Men, Division 1 Women, Division 2 Men, and Division 2 Women each received a voucher from Filippi Ireland to the value of €300.
In 2018, CIRC was the strongest school club, accumulating 700 points overall to take 8th place in the Grand League, ahead of 43 other clubs. CIRC's strong performance in the first grand league regatta of 2019 has earned 863 points, placing us 3rd overall. Only Cork and Shandon received more points (neither of which are school clubs), which means the Jes continues to enjoy the position of top school in the 2019 Grand League, albeit with two more events to go.

CIRC's Grand League Points

| | | |
| --- | --- | --- |
| Category | 2018 | 2019 (so far) |
| W Div 1: | 25.6 | 241 |
| W Div 2: | 195 | 125 |
| M Div 1: | 71 | 273 |
| M Div 2: | 178 | 224 |
| Total: | 700 | 863 |
Sources: 2018 results (PDF) | Grand League Table after Skib Regatta
Results
The high number of points were due to a number of successes over the weekend. Highlights of the event include:
Saturday
The Jes made it to the A, B, and C finals of the Mens Division 1 pairs, with CIRC's Sam Reidy and Thomas Hume winning the J18 category in Final A.
In the Men's Div 2 8+ competition, the CIRC J16 crew crossed the line 22.2 seconds ahead of Castleconnell, in Final A.
CIRC's womens J18A pair earned 2nd place in the J18A category, in Final A of the Division 1 pairs.
Our J18B 2x, came 2nd in Final B of the mens division 2 doubles, earning them 3rd place in the J18B category.
In the mens div 1 4+, the Jes won final B, beating 2 Club 1, 2 J18, and one Inter crew. This earned them 2nd place in the j18 category, 14.7 seconds behind rowing ireland's international J18 crew, who won Final A and went on to win Silver in the European championships, 2 weeks later.
The Jes's W J18 Coxless Quad was the second fastest J18A crew in the Womens division 1 4x- Final A.
Sunday
In the Womens' Division 1 Coxless 4's, CIRC won Final B but their time was unfortunately 0.5 seconds behind the time set by GRC's (J18A) crew, in Final A, so they took 2nd place in the J18A category.
Final A of the Womens' Division 2 coxed 4's saw CIRC's J16 crew beat Athlone's J18B crew to finish behind another J18B, and 3 Club 2 crews. This secured them a win in the J16 category.
Final A of the Mens Division 2 Coxed 4s saw the CIRC J18B crew cross the finish line ahead of the club 2 crew from UCD and just behind the crew from UCC, earning them a win in the J18B category. The Jes J16 4 was also in the same final. They recorded a time 2 seconds slower than St Michaels (in Final B), earning them 2nd place in the J16 category.
No Junior crew made it into Final A of the Men's Division 1 8+ category, which was comprised of 3 Senior and 3 Intermediate crews. Final B consisted of 2 Club 1 crews, 1 Inter crew, and 3 J18A crews (CIRC, the Bish, and St. Michaels). This thrilling race saw both the Jes and St. Josephs come in just under 5 seconds behind the winners (UCD's Inter crew) - but the Jes pipped the Bish, finishing one quarter of a second ahead of them and 19 seconds ahead of St. Michaels.
CIRC's Tara O'Neill won the Women's J15 single sculls Final A and Tom Maye won Final B of the MJ15 single sculls.
Unfortunately, a CIRC photographer was not able to attend the event on Sunday but photos from Saturday, and some from Sunday (provided by coaches) can be viewed below: