Jan 31, 2020

Róisín Dubh - Friday Jan 31. (Over 18s only). €15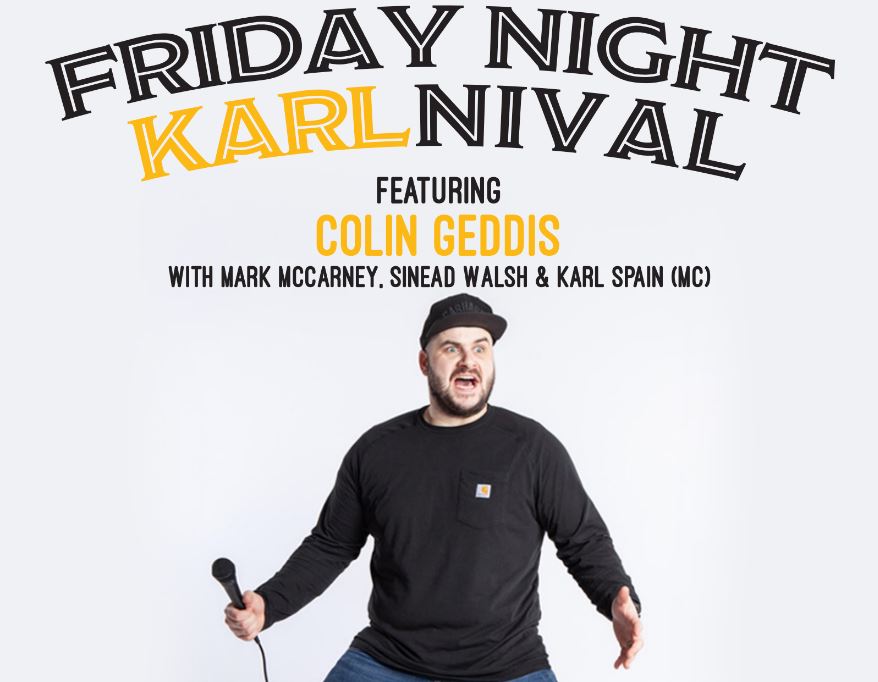 Don't miss the annual Jes Rowing Comedy Night at the Roisin Dubh
A cracking night of stand-up comedy - with 4 comedians!
Featuring COLIN GEDDIS with support from Mark McCarney, Sinead Walsh & Karl Spain (mc)
Fri 31 January. Doors 8pm. Tickets €15*. Overs 18's
This year we have an absolutely super line up with COLIN GEDDIS and support from Mark McCarney, Sinead Walsh & Karl Spain (mc).
The Club will earn €10 from every ticket the club sells - and we have 100 tickets to sell! Tickets are €15, available from Fergal Mc Grath (Text 086 2628707) or from the Town Hall Theatre 091 569777.
We ask you all to support the event by buying a ticket (ideally two!) or, better again, rally a group of friends and colleagues to come along for a great night out whilst supporting a very important club for the Jes - and for Galway. ALL funds raised are needed for the ongoing maintenance and running costs of the club. And please remember the club benefits only from the tickets the club sells so please buy from the sources highlighted above. Doors open at 8pm and show is 8.30pm - 11pm. We look forward to seeing you all there!!
Tickets bought via Town Hall Theatre subject to €1 Booking Fee
COLIN GEDDIS
Colin Geddis is the creator and writer of Gedzilla films, an online based Sketch and Stand Up Comedy channel which has now seen him reach almost 10,000,000 YouTube hits. He gained notoriety in Northern Ireland in late 2009 with his hit YouTube based sketch show, 'I Am Fighter' which he wrote, performed and produced all episodes as well as played the lead character 'Barry 'the blender' Henderson'. He is also the creator of the hugely successful audio and video podcast 'Audio Picnic', which has gone on to receive 1000's of plays and downloads on iTunes since its creation in 2010. He now produces his own Podcast 'The General Banter Podcast' which has over 500,000 downloads. He also starred in BBC NI sketch show 'LOL' and is currently in development with C4 plus sketch show 'Late Licence' is on the way for BBC 2.
MARK McCARNEY
Mark McCarney is fairly new to the Irish comedy scene, but is already a regular fixture at comedy clubs in Belfast and around Northern Ireland. Mark has supported some of the biggest names in Northern Irish comedy on tour and will charm you with his poetically absurd take on ex-girlfriends and breaking up with someone during the famine.
SINEAD WALSH
Sinead Walsh is a Dublin stand-up comedian, based in Cork (for reasons still unknown). Her fast-paced, witty and extremely funny stories take in everything from nature, nursing a broken heart and nanny-goat mamboing.
Hosed by the achingly funny Karl Spain