Jan 26, 2018

Róisín Dubh - Friday Jan 26. (Over 18s only). €14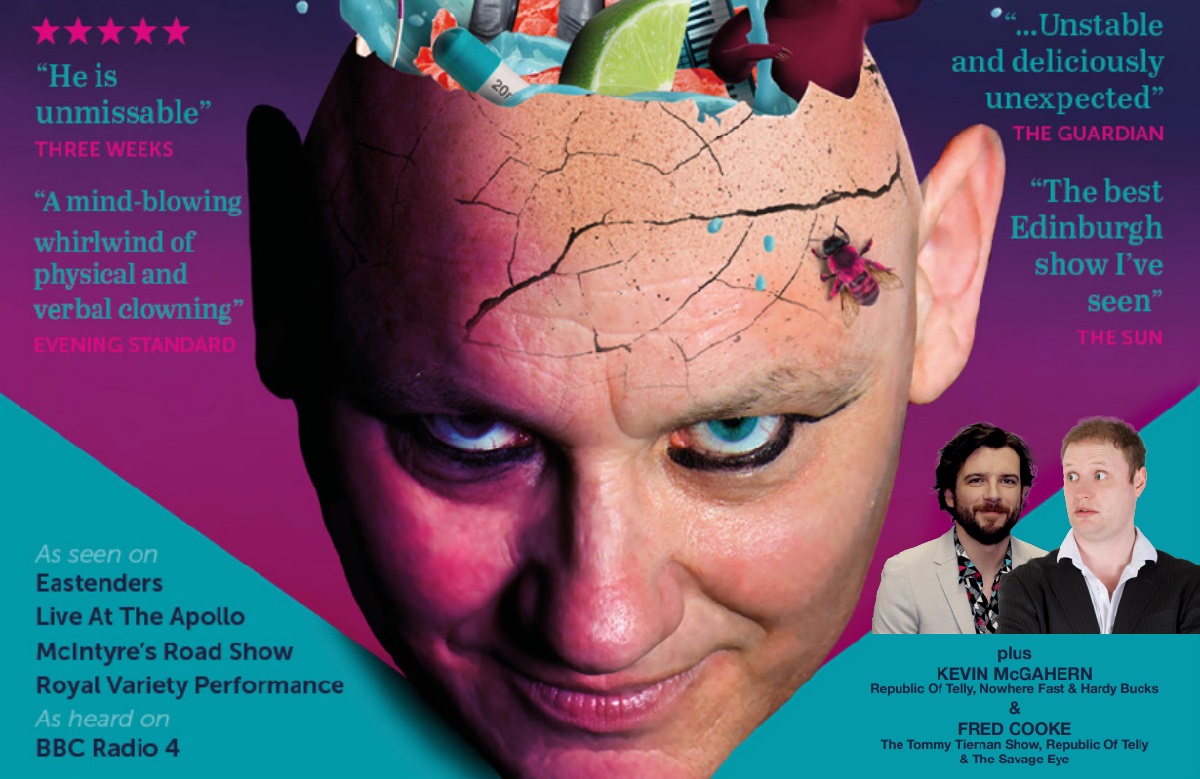 Don't miss our next fundraising event - the annual Jes Rowing Comedy Night at the Roisin Dubh on Fri 26 January (doors 8pm and show 8.30pm) when you and friends can have a great night out and help raise much needed funds for the club! It's an over 18's night out.
This year we have an absolutely super line up - with headliner Terry Alderton (as seen on Eastenders, Live At The Apollo, McIntyres Comedy Roadshow & Royal Variety Performance) plus KEVIN McGAHERN (Republic Of Telly / Nowhere Fast / Hardy Bucks) & FRED COOKE (The Tommy Tiernan Show / Republic Of Telly / The Savage Eye).
The Club will earn €10 from every ticket the club sells - and we have 100 tickets to sell! Tickets are €14, available from members of the committee or from the Town Hall Theatre 091 569777.
We ask you all to support the event by buying a ticket (ideally two!) or, better again, rally a group of friends and colleagues to come along for a great night out whilst supporting a very important club for the Jes - and for Galway. ALL funds raised are needed for the ongoing maintenance and running costs of the club. And please remember the club benefits only from the tickets the club sells so please buy from the sources highlighted above. Doors open at 8pm and show is 8.30pm - 11pm. We look forward to seeing you all there!!
CIRC FUNDRAISING COMMITTEE: Fergal Mc Grath 086 2628707; Geraldine Farrell; Ger Finan; Isbeal Nic Aodh; Jacinta O Gorman; Mary Hayes; Pat Collins; Paul Mannion.
TERRY ALDERTON
Peeking inside the Technicolor mind of one of Britain's finest comic talents and you will find him desperately doing battle with "The Voices", two unpredictable and hilarious Voices in Terry's Head. Though often a challenge to Terry these two different sides of his ego/conscience often lead him into unpredictable comedy routines. No two shows are ever the same!
Terry is one of the most exciting comedians around regularly performing all over the globe. In the last year alone he has played the Melbourne Australia Comedy Festival, New Zealand Comedy Festival, India and Edinburgh Comedy Festival. Terry has been Perrier nominated in Edinburgh and recently won the '3 Weeks Critics' award as well as Best International Act at the New Zealand Comedy Festival. This frequent traveling has meant performing alongside some of comedy's biggest stars. Michael McIntyre has found Terry as a source of inspiration. He has recently worked with Joan Rivers who became an instant fan and Eddie Izzard who proclaimed him to be a 'very funny comic with a fantastic comedy mind', but someone who really ought to seek some sort of professional help.
KEVIN McGAHERN
Know best as the host of RTE shows: "Republic of Telly", "Fast & Furious" and "America", Kevin McGahern has also a well-deserved reputation as one of Ireland's top stand-ups with surrealist and observational humour perfectly mixed into one hairy Cavan man. "Sharply written, brilliantly performed" - Totally Dublin.
Kevin is well known for his Youtube hits: "Felix Bollard: A Serious Man" and "The Man who Slipped on the Ice".
He has played all of Ireland's top comedy clubs and festivals, toured with the Lads of Comedy, played Vicar Street and rocked the 2017 Vodafone Comedy Carnival. Come check him out.
"Gas bastard" - The Rubberbandits
"Made me laugh out loud" - Charlie Brooker
FRED COOKE
Until recently, Fred Cooke was probably best known to your mammy as 'Fergus' from the series of Spar TV ads but of late, his star as risen with a high profile gig as the dapper MC on The Tommy Tiernan Show. Both as writer and performer, he has contributed to a variety of successful Irish TV shows including Republic of Telly, The Café (as The Crazy Chef), The Savage Eye, The Modest Adventures of David O'Doherty and The Liffey Laughs. Onstage he's a very different beast, delivering a unique style of comedy that simply cannot be imitated. Fred has performed at many comedy festivals both here and abroad, including The Cat Laughs and the Edinburgh Fringe. He has supported his comedy hero Ardal O'Hanlon on a massive nationwide tour. He has also supported such high profile acts as Tommy Tiernan, Dara O Brian, Ross Noble, Jason Byrne, Neil Delamere and Des Bishop.
"I love Fred, he has the real spirit of the Clown in him" - Tommy Tiernan.