About rowing training and the coaches who offer their time and expertise to help our rowers achieve their potential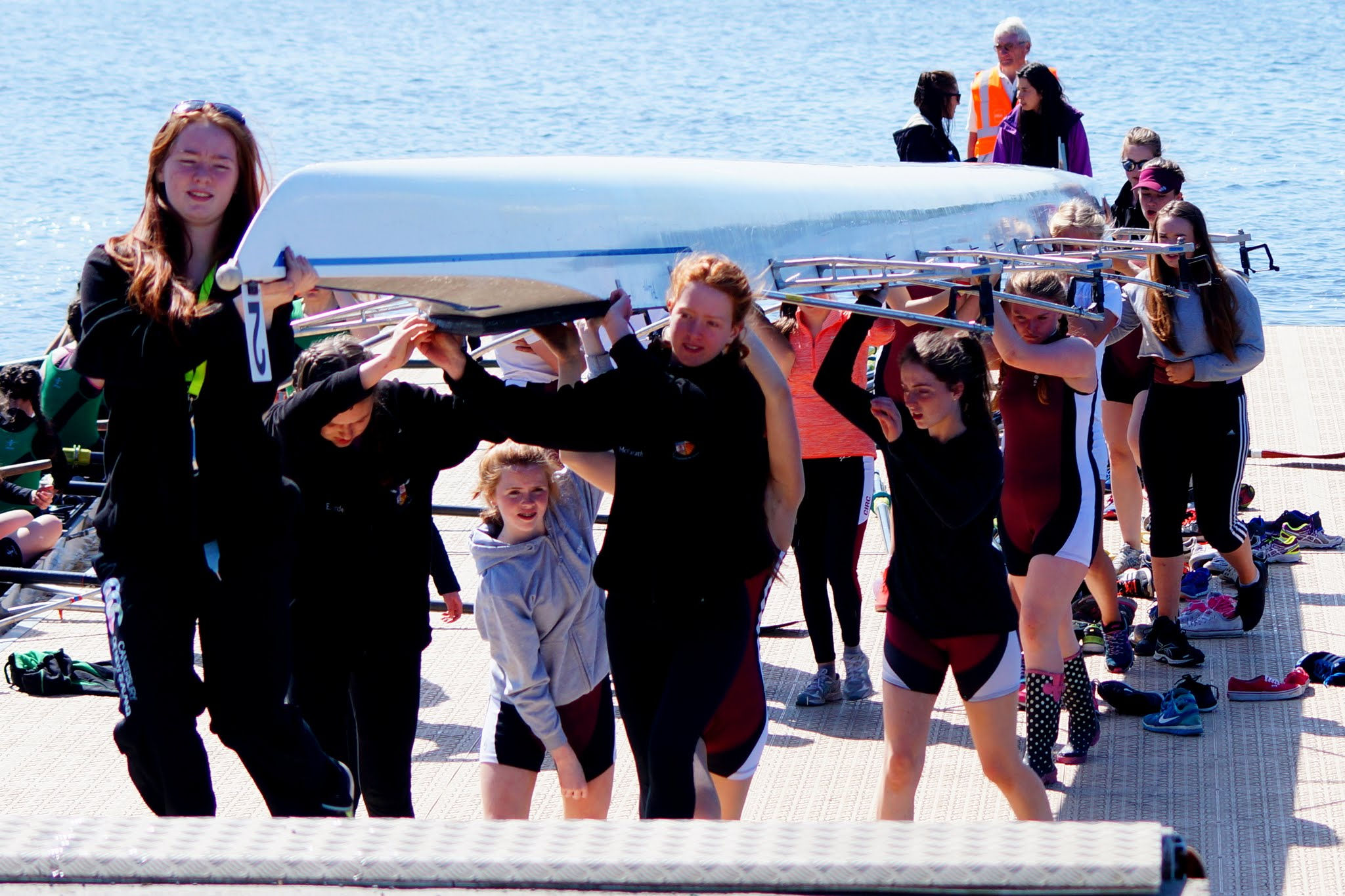 Rowing training sessions typically take 2 hours (1 hour for adult / recreational rowers) but rowers should aim to arive half an hour early to change, get boats/oars out of the boathouse and onto the water, and to help prep the safety launch.
School Rowers
The training schedule for the CIRC rowers depends on the level that they are at.
Training consists of a mixture of sessions on the water and on the land - taking place after school and at weekends.
First years start with 5 or 6 sessions a week (including Saturday and Sunday). The older CIRC rowers generally have more training sessions. By the time they reach the school's senior crews, they will train after school (4 days a week), before school (once or twice a week), and once or twice on Saturdays and Sundays too.
Initial Training Schedules for 2019 / 2020

Junior Boys (1st & 2nd years)

Tuesday, Wednesday, Thursday, Saturday & Sunday: 4-6pm.

Junior Girls (1st & 2nd years)

Monday, Wednesday & Thursday: 4-6pm, Saturday: 2-4pm.

Beginner Boys

Saturday: 4-6pm, Sunday: 2-4pm.

Beginner Girls

Saturday: 2-4pm, Sunday: 4-6pm.

Senior Boys (3rd years upwards)

Monday: Off
Tuesday: 4-6pm (6:30-8pm for leaving certs)
Wednesday: 6-8am & 4-6pm (6:30-8pm for leaving certs)
Thursday: 4-6pm (6:30-8pm for leaving certs)
Friday: 6-8am & 4-6pm
Saturday: 10am-12pm
Sunday: 8am-10am & 12-2pm

Senior Girls (3rd years upwards)

Monday: 4-6pm (6:30-8pm for leaving certs)
Tuesday: 6-8am
Wednesday: 4-6pm (6:30-8pm for leaving certs)
Thursday: 6-8am & 4-6pm (6:30-8pm for leaving certs)
Friday: 4-6pm
Saturday: 8-10am & 12-2pm
Sunday: 10am-12pm
Rowers are notified of changes in the schedule by their coach.
The schedule during holiday periods is liable to change while the schedule in wintertime may also be different, due to the shorter days.
Training for Jes students continues until the Championships in mid-July. The number of sessions for the younger rowers is likely to increase during the summer holidays.
Adult / Recreational Rowers
Adult (recreational/social) rowers typically train midweek, in the evening, and around 11am on a Saturday/Sunday.
Safety
Safety on the water is a major priority for all.
Crews will not go on the water when rowing conditions are deemed to be unsafe.
When sessions on the water are cancelled (sometimes at short notice), they are often replaced by land training.
Every effort will be made to advise the rowers if, for some reason, a session is not going ahead.
Rowers cannot go on the water unless accompanied by a coach in a launch.
All who go in a launch and all coxes must wear a buoyancy aid.
The success of Jes rowing over the years owes an enormous amount to the coaches who put in hours of work with the crews, winter and summer. The club has a great tradition of ex-Jes rowers coming back to coach or staying in touch with the club in other ways. To all past and present coaches, who work with our yong rowers on a volunteer basis, we say THANK YOU for your hard work and dedication.
Senior Boys Coaches
The lead coach for the boys is John Lawless - a vastly experienced and respected coach. Luke Coughlan, Kai Mc Glacken, Michael Sampier, and John Curran also freely give their time to train the 3rd - 6th years.
Senior Girls Coaches
The girls head coach is Noel Hume, a former Jes rower with a wealth of experience. The girls also benefit from the tutelage of Gearóid Mitchel and Paul Hornibrook. In recognition of their experience and success, both Noel and Paul were selected by Rowing Ireland to coach and manage Ireland's Coupe de Jeuenesse WJ18 8- crew and WJ18 coxless pair, in 2018.
Under 15 Boys Coaches:
Brian Maye is a former Jes rower who finished rowing in 2017 and got involved in the coaching of 2nd years. Brian was in the Jes 8+ crew that won the J16 National Championships in 2015.
Under 15 Girls Coaches:
The club is delighted that the experienced Redmond O'Brien acts as a mentor to this group, giving freely of his time to the benefit of all. Brian Maye, the boys' coach, assists him in this role.
1st Year Boys Coaches:
The first-year boys are coached by some former Jes rowers: Robert McInerney, Adam de Burca, and Thomas Power. All three of these were members of the hugely successful boys J16 crew of 2015, which won the national championships that year.
1st Year Girls Coaches:
The lead coach for the first years is club Chairman, Evan Molloy.
Evan first entered the Jes Rowing Club in 1967 and we are delighted he is still here almost 50 years later! Evan's role in the club can best be described as Chairman / Coach / Logistics manager / Engineer / Mechanic / Driver / Committee member / Builder... the list goes on. Evan has been coaching the beginners for the past number of years and all the successful CIRC oarsmen and women in the past ten years have been coached by him during their years in Coláiste Iognáid. Evan also played a key role in building the second storey in the club. It is because of this dedication that it is joked that Evan spends more time in the club than any of the rowers who train there every day!

Evan is ably assisted by Laoise Ni Griofa and some of the transition year Girl rowers.
Recreational Rowing Coaches:
The lead coach for the adult recreational rowers is club Chairman, Evan Molloy.